The Pudil Family Foundation supported Ai Weiwei's exhibition in Prague
In celebration of its 220th anniversary, the National Gallery in Prague has prepared a rich program under the common theme "Generosity: On the Art of Giving".  Visitors are invited to explore the exhibitions and artworks, all set inside the National Gallery's various buildings in Prague. With one exception: the unique installation of Zodiac Heads by world-known Chinese contemporary artist Ai Weiwei is set outside, right in front of the Trade Fair Palace in Prague.
The work consists of twelve bronze heads of the animals of the zodiac, inspired by the sculptures destroyed near Peking during the Opium Wars in 1860. Although these "public sculptures" embody the artist's reaction reaction to the political and social challenges facing the world today, their appearance is very playful, or even amusing and entertaining, as proven by the many New Yorkers who appreciated the installation of Zodiac Heads in Central Park. 
The Pudil Family Foundation was pleased to support Ai Weiwei's exhibition in Prague, thus contributing to the presentation of an important contemporary artist in Prague and giving the anniversary celebrations of the National Gallery an even more international dimension.
The exhibition Ai Weiwei: Zodiac Heads is open daily except Mondays from 10 am to 6 pm until 31 August 2016 at the Trade Fair Palace, address: Dukelských hrdinů 47, Prague 7.
Ai Weiwei comes from an artistic family and is recognized as one of the top artists on the contemporary art scene, although in his home country Ai Weiwei is still balancing on the brink of a dissident movement. The artist was strongly influenced by the works of Andy Warhol, Marcel Duchamp and Robert Rauschenberg, which he discovered during his exile in the United States. Ai has lately had several major exhibitions, including in the Royal Academy (2015), Martin Gropius Bau (2014), Hirshhorn Museum and Sculpture Garden (2012), and Tate Modern (2010).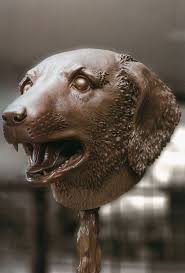 The Pudil Family Foundation is an open non-profit organization dedicated to promoting the understanding and appreciation of Czech and international modern and contemporary art through the realization of innovative exhibitions, research and educational projects. 
For more information regarding the Foundation and our projects, visit www.pudilfamilyfoundation.org.